The New Jersey Youth Institute is a transformative experience at the School of Environmental and Biological Sciences for high school students. During this day-long program, students get to learn about critical global issues, network with local leaders, engage in hands-on-activities, and explore exciting ways to become effective change agents in their own communities, conscientious global citizens and tomorrow's scientific humanitarian leaders.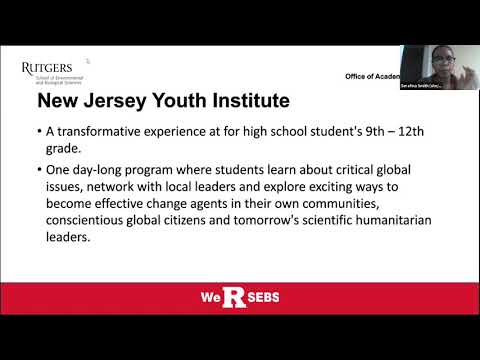 Select students attending the New Jersey Youth Institute will be invited to attend the Global Youth Institute in Des Moines, Iowa. High school students from across the U.S. and abroad gather during the event to study and write about a pressing global food issue and present their papers to distinguished global leaders and fellow students. While at the symposium students also have opportunities to attend trainings/educational programs, go on field trips, and participate in a team service project. All expenses, except travel, are provided by the World Food Prize.
Qualify for Internships
Gain Professional Experience
Research a Global Challenge
Propose Your Solution
Take Action in Your Community
Build Leadership Skills
Program Benefits
Students who participate in the New Jersey Youth Institute earn recognition as a Borlaug Scholar and qualify for internships and further opportunities.
Students present research and recommendations on ways to solve key global challenges in a short speech and small group discussions with statewide experts.
Students connect with other student leaders from across New Jersey to share ideas, identify solutions to these problems and build lasting friendships.
Participants explore the issues, current research and opportunities to make a difference at Rutgers University.
Participants interact with global leaders, innovators and entrepreneurs in New Jersey working to end hunger and poverty and improve food security around the world.
Build Leadership Skills
Research a Global Challenge
Propose Your Solutions
Further Opportunities
Borlaug-Ruan International Internships
The Borlaug-Ruan International Internship is an all-expenses-paid, eight-week hands-on experience for high school students to work with world-renowned scientists and policymakers at leading research centers in Africa, Asia, Latin America and the Middle East. Borlaug-Ruan Interns get a firsthand view of pressing food security and nutritional problems in poverty-stricken areas and take part in groundbreaking research.
USDA Wallace-Carver Fellowships
The USDA Wallace-Carver Fellowship is a paid summer research or policy placement for college students at a U.S. Department of Agriculture laboratory, agency, or at USDA headquarters in Washington D.C. Wallace-Carver Fellows analyze agricultural and economic policy; assist in the management of food, nutrition and rural development programs; and take part in groundbreaking field and laboratory-based research. Fellows travel to Washington DC as part of their fellowship for a week-long high-level leadership program hosted by the U.S. Secretary of Agriculture.